WATSONVILLE – Watsonville Municipal Airport Manager Don French will retire in December, ending a career with the city that's spanned four decades.
The city is hiring pilot and airport volunteer Rayvon Williams to help with the transition.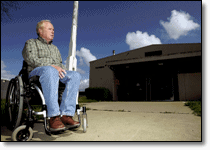 French, 71, has managed the airport since the early 1990s, first adding that job to his role of assistant fire chief. When he retired from the fire department after 25 years in 1997, he was officially named airport manager.
"I've had one of the most fortunate careers, first with the fire department and then with a career at the airport, the two major loves of my life," said French, who flew his own plane until giving up flying three years ago.
French said he had planned to stay on one more year, but decided to step aside as the city prepares to redo sections of a general plan struck down in a lawsuit filed by the Watsonville Pilots Association. He said he felt trapped in the middle of ongoing conflicts between the city and pilots over land-use decisions around the airport, and recently his relationship with the pilots has deteriorated.
He also cited frustration with federal environmental regulators whose mandates have stalled a $700,000 rehabilitation of the airport taxiway and aviation apron. The airport is listed as critical habitat for the Santa Cruz tarplant.
"You wake up one morning and you say it's time," French said.
Williams, who is interested in replacing French, was hired for a six-month term as project manager as of July 1. He will be paid $7,546 a month for a 36-hour work week.
French works 17 hours a week and is paid $4,313 a month, about $10 an hour more than Williams.
"Rayvon is no doubt a strong candidate, but we'll do a full and open recruitment this fall to fill the manager position," City Manager Carlos Palacios.
In the meantime, Palacios wants Williams to work on getting the environmental approvals for the rehab project.
Williams, a Scotts Valley resident, previously worked in business development, sales and marketing and operations for Silicon Valley companies. But after learning to fly in Watsonville in the late 1990s, he began to bolster his aviation experience, acquiring higher level ratings and a master's degree in aviation safety from Embry-Riddle Aeronautical University. He's also been the airport's volunteer safety officer for several years and is involved in Angel Flight, a nonprofit organization that provides free medical flights.
Williams said his long association with the airport means he understands the issues and his business background gives him the expertise to manage it.
"One of the things I bring is that I do have a passion for the airport. I do have a passion for aviation," Williams said.