15 leaders are elected by the membership to 2-year terms: President, 6 Regional Vice Presidents, Secretary, Treasurer, and 6 Directors-at-Large (one representing each region). Additional leadership positions may be appointed with no designated terms.
Leave a message on our toll-free phone number (800) 319-5286 and describe what information you need and a phone number where you can be called and it will be forwarded appropriately.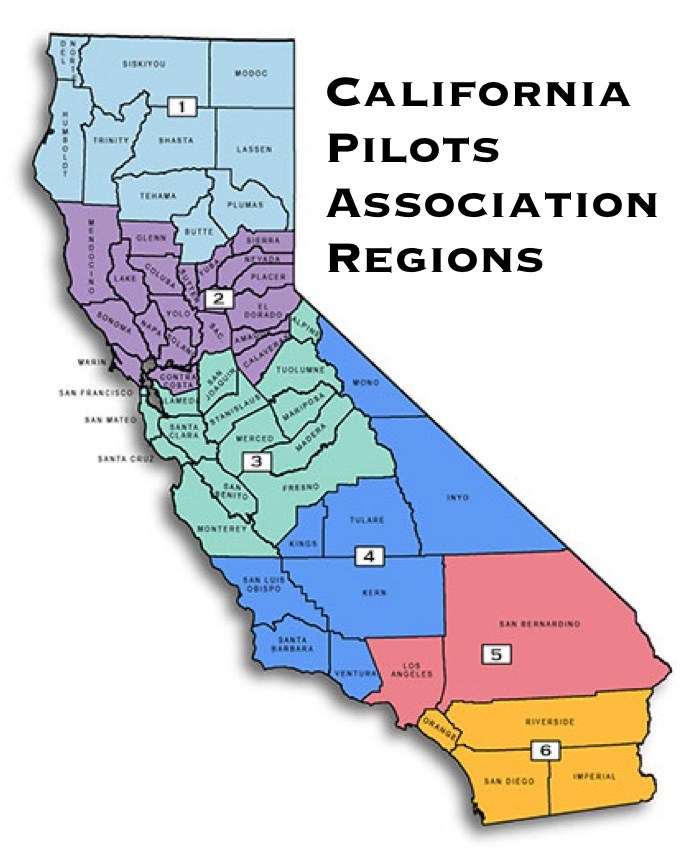 PRESIDENT: Carol Ford (Redwood Shores)
SECRETARY: Open
TREASURER: Walt Wells (Holualoa, HI)
VICE PRESIDENT (Region 1): Patrick J. Wallner (Redding)
VICE PRESIDENT (Region 2): J. Gill Wright (Sacramento)
VICE PRESIDENT (Region 3): Doug Rice (Los Gatos)
VICE PRESIDENT (Region 4): Jolie Lucas (Grover Beach)
VICE PRESIDENT (Region 5): Ed Story (Torrance)
VICE PRESIDENT (Region 6): Gary Schank (Coto de Caza)
DIRECTOR (Region 1): Open
DIRECTOR (Region 2): Jim D. Pinkowski (Carmichael)
DIRECTOR (Region 3): Andy Wilson (Hayward)
DIRECTOR (Region 4): Karen Kahn (Santa Barbara)
DIRECTOR (Region 5): Peter Albiez (Burbank)
DIRECTOR (Region 6): Bill Sanders (Chula Vista)
COMMUNICATIONS DIRECTOR: Andy Wilson (Hayward)
CHAPTER ADMINISTRATOR: Andy Wislon
DART PROGRAM MANAGER: Paul Marshall (Gilroy)
EDITOR, CalPilots: Andy Wilson (Hayward)
GENERAL COUNSEL: Karl Schweikert (Sacramento)
PAST PRESIDENT: Corl Leach (Las Vegas, NV)
PAST PRESIDENT: Ed Rosiak (Cupertino)
PRESIDENT EMERITUS: Jay C. White (San Carlos)
CALPILOTS ADVISORY BOARD:
Jack Kenton, Jim MacKnight, John Pfeifer, Elliott Sanders
PRESIDENT EMERITUS: Jay C. White
CalPilots acknowledges and salutes the immeasurable contributions of Jay C. White. Becoming President of the California Aviation Council (CAC) in 1984, he led many significant transformations. Retiring from United Airlines as a Boeing 747 Captain, Jay brought his skill as an accomplished aviation attorney and provided the "teeth" the organization needed to tackle numerous legal challenges.
He filed many briefs and when necessary, lawsuits on behalf of General Aviation concerns. He led the CAC to obtain tax-exempt status under IRC section 501(c)(3) and subsequently obtaining authorization for a Group Exemption and eventual formation of "Chapters" at over three dozen airportss across the state. The CAC was renamed California Pilots Association in 1991, the title by which Jay would lead for another 13 years. From 2005 - 2015 Jay was the CalPilots General Counsel. He currently resides in San Carlos, CA and volunteers with the Legal Aid Society of San Mateo County.