NOAA's policy of "guilty until proven innocent" regarding overflight of the recently changed airspace of the Marine Sanctuary is unacceptable.
June 1, 2012
FAA Administrator Michael Huerta
Federal Aviation Administration
800 Independence Ave., S.W.
Washington, DC  20591
FAA Administrator Huerta,
I am writing you on behalf of the California Pilots Association's Board and our statewide membership to voice our concern for and disapproval of the recent NOAA Wildlife Sanctuary (RIN 0648–AX79 Overflight Regulations for the Channel Islands, Monterey Bay, Gulf of the Farallones, and Olympic Coast National Marine Sanctuaries).
While the California Pilots Association supports the basic intent of "flying friendly" and compliance with FAA Advisory Circular 91-36D, "Visual Flight Rules Flight Near Noise Sensitive Areas," the NOAA regulation restricts overflights even further and imposes unacceptable consequences if it is perceived that a pilot does not comply.
We understand that the rule is meant to protect wildlife in the Channel Islands, Monterey Bay, and Gulf of the Farallones National Marine sanctuaries in California; and the Olympic Coast National Marine Sanctuary in the state of Washington. The final rule, however, puts all pilots at risk of being presumed guilty of disturbing wildlife. That is unacceptable.
The regulation creates a presumption that any pilot who flies below 1,000 feet MSL in the vicinity of one of the protected sanctuaries (or below 2,000 feet MSL in some areas) has disturbed the wildlife there. Further, those penalties will be based on observations from unknown ground personnel who do not necessarily have any aviation knowledge, training, or specialized equipment to make accurate calculations of an aircraft's altitude.
Frankly, this idea is absurd. It is simply not possible to accurately determine a pilot's altitude while observing an overflight. And further, since when are we considered guilty until proven innocent in the United States of America?
It is disappointing that the FAA would allow an outside agency, such as NOAA to usurp reasonable guidelines, and to impose regulations which are basically unverifiable and could have dire flight safety implications.
For example: Pilots need to understand how he/she is supposed to avoid these NOAA areas when flying an instrument approach into Monterey, Marina, Watsonville, Salinas and Half Moon Bay California airports.
A quick review of the instrument procedures to these airports will validate that all have over water approaches. How is the pilot supposed to safely descend for landing knowing that he/she isn't supposed to descend below 1,000 feet, or until past the NOAA imposed ceiling boundary, especially when on approach in clouds? And what about the missed approach portions of other approaches which could also violate the NOAA regulation?
This NOAA map of wildlife overflight concern reveals a thought process lacking any consideration for the operational airport areas located in the region. Clearly, the FAA representative associated with this ill-conceived NOAA plan had no aviation experience or at a minimum, the instrument approach procedures would have surfaced as issues.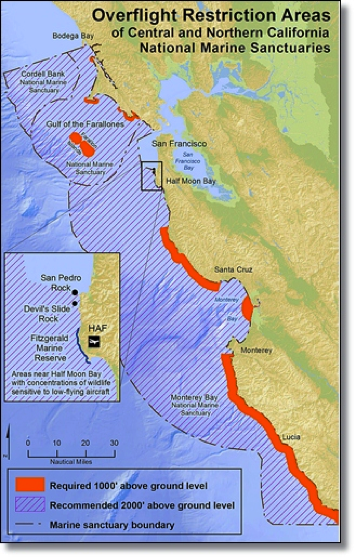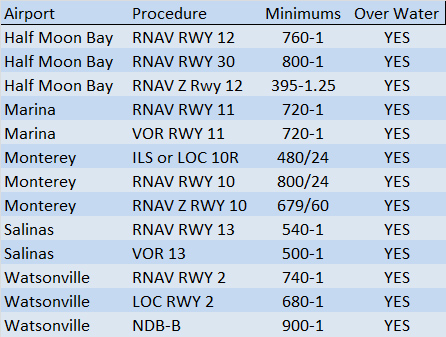 In our opinion this airspace reconfiguration must be reevaluated, the first order of business a project reassessment. We also request that the FAA closely oversee any proposed airspace changes. And finally that the FAA reassumes responsibility for this airspace as it should be.
We ask that:
1. NOAA provides the justification for this ill-conceived idea, backed up by scientific data. To date we haven't seen any data that justifies this action as it applies to the Monterey Bay Area.
2. The FAA must provide immediate guidance to pilots as to how they are supposed to safely operate within this unacceptable NOAA confusion of airspace.
3. Immediate removal of the unacceptable "guilty until proven innocent" provision of this unnecessary regulatory change.
The California Pilots Association, and the 60,000 active pilots in California, understand that the FAA and the NOAA are large busy organizations and we believe because of this fact, this ill-conceived idea may not have been given a thorough objective, scientific and analytical review. Certainly given all the unanswered questions we fail to see how it could have been.
In closing we would like to offer our assistance to help you correct this confusing and potentially safety affecting ill-advised airspace change. Thank you in advance for your time and attention to this important flight safety issue.
Sincerely,
Edward Rosiak – President
California Pilots Association
PO Box 6868
San Carlos, CA.
94070-6868
cc:
Edward Horton – NOAA Chief Administrative Officer
Craig Fuller – President CEO AOPA
Rod Hightower – President/CEO EAA
Ed Bolen – President and CEO NBAA
Senators – Diane Feinstein, and Barbara Boxer