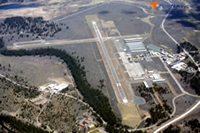 TRUCKEE, Calif. – Results from a scientific poll to help refine Truckee Tahoe Airport's future vision reflect a significant jump in community favorability. San Mateo, Calif.-based Godbe Research found this summer that 37 percent of 500 residents interviewed "strongly" favor the airport, and 32 percent "somewhat" favor it. This is up from 2009 Godbe poll numbers of 24 percent and 30 percent, respectively.
Meanwhile, negative reviews went down from 22 percent in 2005 to 7 percent in 2013, said Bryan Godbe, president of Godbe Research.
"The favorability of the airport has gone up dramatically," Godbe reported to the airport board of directors last month. "… So the communications is having an impact, the policies are clearly having an impact, and the numbers are going in the right direction."
Among pilots, nine out of 10 reported having a favorable opinion of the airport. Of the 65 pilots polled, 80 percent "strongly" favor the airport, and 14 percent "somewhat" favor it.
Regarding a preferred airport vision, the highest-ranked option among residents and pilots was to manage growth consistent with community needs, at 88 percent each.
The groups differed on regulations and limitations, however. Residents "somewhat agreed" with a voluntary curfew and a mandatory 10 p.m.-to-7 a.m. curfew for noise mitigation, where as pilots viewed those options less favorably.
A majority of residents – 60 percent – said the airport is doing "about the right amount" to minimize the amount of aircraft noise and low-flying aircraft, while 4 percent answered it's doing "too much." As for pilots, it was 71 percent and 25 percent, respectively.
Top airport activities residents are satisfied with include community events such as the Truckee AirFair and land acquisition for preservation. Pilots were most satisfied with the airport's runway maintenance and least satisfied with airport hangar fees.
Regarding potential construction of a multi-use hangar to park aircraft for a fee, while also being used for public events for nonprofits, 76 percent of residents favored the idea.
"The Godbe survey is a very effective tool in helping our board and staff make decisions about the future of the airport that are in sync with community opinions," said Kevin Smith, the airport's general manager.
The Godbe results were collected from May 30 to June 25 through telephone interviews in an effort to help update the airport's 1998 master plan. The poll cost the district about $25,000 to conduct, Smith said.
A final airport master plan is expected to be adopted in 2014. It will help guide the district on policies, operations and development into 2025.