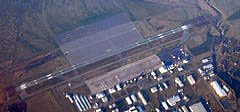 Chico – The city will be moving forward in its quest to find management for the Chico Municipal Airport.
Last week, City Manager Mark Orme said the city will be putting out a request for proposals later this month.
Earlier this year the city called for interested parties, getting two letters of interest by the deadline. Two others came in late. Orme said he was pleased with the interest.
"This will allow for folks to respond. We're excited there are interested parties."
There was some criticism when the city accepted two inquiries that were past the published deadline.
Orme said the city hopes to have the RFP call out by mid-December and then allow 30 days for responses. He said he hopes to have submittals by mid-January for the City Council and Airport Commission to review.
"If the responses are viable, then we could anticipate bringing some one on board, if the city council desires, by March."
The City Council agreed to set aside about $200,000 in its new budget in the name of airport management. Orme has said previously that airport management could be placed with an individual or company, and that it may not take all of that money to get the job done.
"We need to make sure we bring back a responsible vendor that meets the needs of the city."
Orme said the work the various airport committees through the City Council and Airport Commission have gotten a lot accomplished and refined what needs Chico has. The community survey put out by the Chico Chamber of Commerce has helped, he noted, and another survey designed for businesses has been launched.
Chamber CEO Katie Simmons said the chamber is now calling on businesses.
"For the Executive Business Survey, we are calling on businesses with significant employee travel budgets and/or those that rely on air service," Simmons wrote in an email.
"If a business wishes to take the EBS, please have them contact me."
The chamber can be reached at 891-5556 or ksimmons@chicochamber.com
"It's been beneficial to take the time to understand what's going on," Orme said.
Chico has not had an airport manager since 2005, and the Airport Commission has been working on strategies to reduce a continuing deficit.