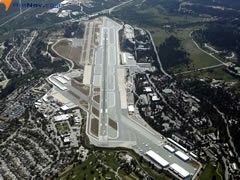 Monterey Regional Airport
Runway Safety Area (RSA) Improvements Project
RSA Project Update:
In preparation for the installation of the Engineered Material Arresting System (EMAS) material, the construction work will begin to impact the Airport Operations Area. In order to maintain safety for both aircraft and the construction crews, there will be operational impacts occurring between January 19, 2015 and March 19, 2015. The runway will be open throughout the project for all commercial flights (barring unforeseen circumstances) and any work that requires a runway shut down will be done at night with a runway closure. We will continue to provide updates as more specific information is available or if the status changes. We appreciate your support and patience as we continue to improve your Airport.
See the deatail attached in PDF format
OVERALL ANTICIPATED PHASING OF SCHEDULE
A Notice to Airmen (NOTAM) will be issued within 72 hours prior to any change or condition that will have an effect on flight operations. 
PHASE 1 – EAST END (FEBRUARY 2014 – MID-MARCH 2015)
PHASE 2 – WEST END (MID-MARCH 2015 – JANUARY 2016)
RSA COMPLETION