Lifelong passions for flying and a love of general aviation airports spurred two local pilots – Jolie Lucas and Mitch Latting – to start an all-volunteer organization to save the Oceano Airport.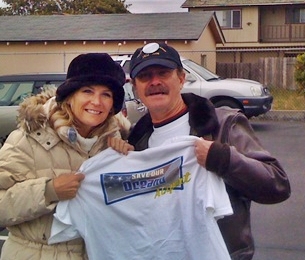 Lucas and Latting, who were married in 2005 and hosted their wedding reception at the beachside airport, co-founded Friends of Oceano Airport in 2010, when a Los Osos resident raised the threat of closing the facility.
Although the closure threat has somewhat subsided, volunteers have remained committed to preserving their airport.
"We came and looked at the airport that the way our visitors would and realized things needed to be spruced up," said Lucas, a self-described Mooney airplane girl, who earned her pilot's license in 2001. "We felt compelled to act."
To date, Friends of Oceano Airport has garnered the help of 150 volunteers to work on projects such as improving landscaping at the facility, restriping the parking lot, cleaning the bathrooms, fixing the airport sign and more.
"We are just trying to do our part," said Latting about working to protect the general aviation airport, in part, by educating the community about the value of the facility. "The more educated people are (about the airport), the less likely they will be to tear it up. Once an airport goes away, it doesn't come back."
Latting, who also owns a Mooney airplane, earned his pilot's license in 1974. Mooneys are American-made planes that also are handcrafted.
Helping to highlight the airport, Lucas and Latting have organized numerous community events through Friends of Oceano Airport.
Annual community events at the airport include Airport Celebration Day, held the second Saturday every May, a fly-in movie night that's held during the summer and the Toys for Tots drive slated for the first Saturday in December (see related story).
By hosting events at the airport, the couple not only hope to educate the public about general aviation airports but also instill a love of flying and aircraft in youths.
"When kids come to the airport for fun events, they can get that spark going," said Latting, who developed his passion for flying and planes as a young boy growing up in the Midwest, where his father would take him to the airport to watch planes.
The airport also offers general aviation users an area for camping, showers, restrooms, a pilot's lounge, complete with a comfortable sofa and snacks, and fuel for their planes. Bicycles also are available for free use at the facility.
"People are having a lot of fun with the bikes," Lucas said. "They are using them."
Friends of Oceano Airport now is working with the county to secure a small outbuilding, located on the property, the group hopes to utilize as a meeting space for pilots and laundry facilities for campground users, Lucas said.
Friends of Oceano Airport always welcomes prospective volunteers, who can visit www.friendsofoceanoairport.com for more information or to join the group.
CalPilots Editor's Note: Jolie and Mitch understand that airport promotion and protection requires constant attention and they have done an excellent job.