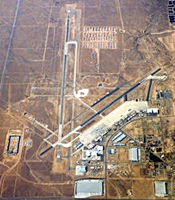 VICTORVILLE – The Southern California Logistics Airport Authority announced Thursday that it plans on issuing a notice to its bondholders informing them the authority expects to be $2.9 million shy of its debt obligation come Dec. 1.
"The default has been anticipated by SCLAA largely due to legislative maneuvers by the state of California to shift redevelopment funds and eliminate redevelopment agencies to satisfy the state's budgetary shortfalls," said Victorville Mayor Ryan McEachron, who is SCLAA chairman, in a statement Thursday.
McEachron also said in his statement that the anticipated default will not impact the service level at the airport or the services provided by the city to its residents.
The authority, a joint-powers agency consisting of the city and the Victorville Water District to oversee development and operations at the Southern California Logistics Airport has only $9.9 million in tax increment on hand to pay the $12.8 million due its bondholders on Dec. 1.
Only non-housing bonds issued by the SCLAA are expected to be affected by the default, whereas housing bonds are not expected to be affected, according to a news release issued by the authority.
The Victor Valley Economic Development Authority, a joint-powers authority overseeing development at the airport, has sued the state, arguing the redevelopment dissolution laws passed last year and upheld this year by the state Supreme Court were written in such a way that they do not apply to the Economic Development Authority.
The Economic Development Authority is also a joint-powers agency formed in 1991 and originally consisting of all the cities in the High Desert's Victor Valley, Victorville, Hesperia, Apple Valley and Adelanto. It formed the VVEDA redevelopment project area encompassing 85,000 acres of property on and around the the former George Air Force Base, now the Southern California Logistics Airport and delegated redevelopment to the SCLAA, said Keith Metzler, assistant executive director of the SCLAA.
"The legislation that eliminated RDAs did just that – eliminate RDAs," said Metzler. "The VVEDA, when it was formed, was not formed as an RDA, it was formed as a JPA. That's an important distinction to us, and that's what's being litigated in court right now."
The impending default will be the second for the SCLAA since the dissolution of the state's roughly 400 redevelopment agencies. The SCLAA defaulted last December on its non-housing bond payments, which it cured on March 16 of this year.
The federal Securities and Exchange Commission has been investigating the city's bond debt since August 2010.