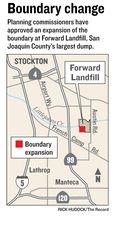 Sully's take on landfill expansion: For the birds
STOCKTON – A pilot who knows a thing or two about bird strikes is condemning the proposed expansion of a large landfill near Stockton Metropolitan Airport, saying it would be "stupid" to increase the risk of a collision.
Chesley "Sully" Sullenberger was sitting in the captain's chair on Jan. 15, 2009, when his U.S. Airways jet plowed through a flock of migrating geese, lost both engines and landed on the Hudson River in New York.
All 155 passengers and crew survived in what was christened the "Miracle on the Hudson."
Sullenberger did a lot of things right in the 208 seconds between collision and splashdown. But he admits he was lucky too – skies were clear and the strike happened during the daytime, making a river landing much easier.
"We can't rely on miracles," he said in an interview Monday. "Having a landfill near an airport is just an incredibly bad idea. You're creating a risk where one did not exist before."
Opponents to Forward Landfill's expansion contacted Sullenberger's publicist earlier this month, asking if he would weigh in on the debate. He wrote a letter to San Joaquin County supervisors urging them to deny the project "given the life and death matters at stake."
Those opponents hope a letter from a high-profile personality will bolster their case. Sullenberger's name and face have become the very definition of heroism in aviation.
Sullenberger, who lives in Danville and now works as a consultant, author and public speaker, said he has flown out of the Stockton airport a number of times and was aware of the proximity of the existing landfill about a mile to the southeast.
He had not been aware, however, of plans to expand the landfill beneath a portion of the outer approach used by airplanes.
Sullenberger said he wrote his letter of opposition only as a concerned citizen. He has also spoken out against trash facilities near La Guardia Airport in New York and the smaller Shiloh Airport near Eden, N.C.
Kevin Basso, general manager of landfill owner Allied Waste, said Monday he had not seen Sullenberger's letter or heard of his interest in the landfill. Forward says it has already scared off all of the 3,000 seagulls that once populated the dump, spooking the birds with predatory falcons and noise-making devices.
Landfills had nothing to do with Sullenberger's famous flight. He struck migrating geese, not garbage-diving gulls.
The pilot acknowledged that bird strikes can happen anywhere, landfill or no. But it is illogical to add to the risk, he said.
"Quite frankly, it's stupid to do that," he said.
Thirty-eight bird strikes have been reported at the Stockton airport since 1990. Most did not involve gulls, the bird most commonly associated with landfills. None caused injury or serious damage.
But Sullenberger said that while his "miracle" got the most international attention, other bird strikes have, in fact, resulted in fatalities.
"We were very fortunate," he said. "But you can't count on being lucky every time."
Contact reporter Alex Breitler at (209) 546-8295 or abreit[email protected]. Visit his blog at recordnet.com/breitlerblog.