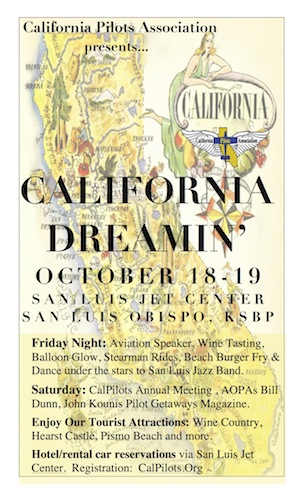 We are very excited to invite you to our CalPilots Annual Meeting/Fly-In, California Dreamin'.
California Dreamin' will be graciously hosted by The San Luis Jet Center at McChesney Field [SBP] in beautiful San Luis Obispo on October 18th and 19th. ACI San Luis Jet Center owner Bill Borgsmiller and general manager Andrew Robilard are very generous supporters of general aviation and they have graciously opened their entire facility to us.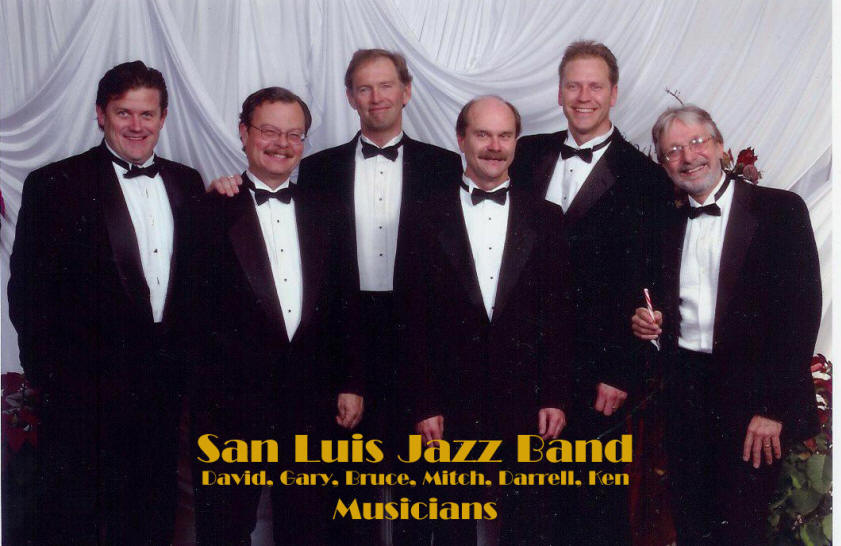 Friday evening, October 18th, starts off with some great wine tasting from a local internationally famous winery. This will be followed by our Beach Burger Fry and Dance [$15] with a great BBQ from our own Central Coast Smokers. The evening will continue with a wonderful aviation speaker, Judy Phelps (2011 CFI of the Year), followed by dancing under the stars to The San Luis Jazz Band featuring CalPilots Region 3 VP Mitch Latting.
Shane Wallace, one of our local balloon pilots, will be providing a Twilight Balloon Glow too.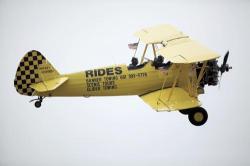 JR Smith will have his 1943 Super Stearman available on Friday evening in case you would like to purchase a ride in this historic airplane. You will not want to miss this night!
Saturday morning, October 19th, we will begin with our CalPilots Annual Meeting. All are invited and encouraged to attend.Annual Meeting with a wonderful presentation by George and John Kounis from Pilot Getaways Magazine. Next up will be AOPA's Vice President, Airport Advocacy, Bill Dunn. We are very pleased to announce our keynote speaker: famed aviation educator and humorist Rod Machado.
Santa Maria style-BBQ will be provided by Central Coast Smokers [$10] will take place in the early afternoon. And again, Banner Airways pilot JR Smith will be offering rides in his 1943 Super Stearman.
After luncheon, we invite you to become a tourist here on the beautiful Central Coast of California. Hearst Castle at San Simeon is just a short 40-minute drive up breathtaking Highway One. On the way up to the Castle, stop and visit "one of America's prettiest towns" Cambria. After the Castle Tour, continue up Highway One, just seven miles north of the Castle and enjoy the magnificent Elephant Seal Rookery at Piedras Blancas Beach. These amazing elephant seals are something you really do not want to miss either!
Paso Robles and San Luis Obispo regions boast over 300 wineries. Chardonnays, Cabernets, Zinfandels and more are await your pallet!
Heading just 10 minutes South of San Luis Obispo is famous Pismo Beach. Hang out on the beach, walk the pier and boardwalk, or peruse the many shops available. While you're down in Pismo area, consider a skydive by Sky Dive Pismo Beach out of our "little slice of paradise" Oceano Airport. The Great American Melodrama is a wonderful way to spend an afternoon or evening of song and dance.
A complimentary concierge for hotel accommodations and car rentals reservations for California Dreamin' are provided through ACI San Luis Jet Center. The Jet Center is also providing free aircraft parking along with a generous fuel discount.
Come join us for California Dreamin', our California Pilots Annual Meeting. This will be a fun and educational event for all. You will learn how you can help promote and protect your airport and have tons of fun in the process. So, come one, come all. Help us help you, please join us!
{fabrik view=form id=7 layout=bluesky}