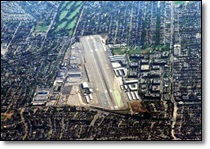 The effort to close Santa Monica Airport suffered a major setback Thursday when a federal judge threw out the city's lawsuit that sought to wrest control of the facility from the federal government.
U.S. District Judge John F. Walters dismissed the claim that title to the oldest operating airport in Los Angeles County should be returned to the city because the action was brought too late under the statute of limitations.
Walters also threw out the allegations that the city was denied due process and that the federal government did not properly compensate the city for taking the property in violation of the U.S. Constitution.
The judge said the city failed to first seek compensation for the airport in the Court of Federal Claims.
City Atty. Marsha Moutrie said the judge's 17-page ruling will be evaluated to determine Santa Monica's options.
"Of course, we are disappointed. But there is likely much work to come," she said.
The federal government obtained the airport from the city during World War II for defense purposes. It transferred the facility back to the city after the war on the condition that it remain an airport in perpetuity unless the government agreed to a change in use.
The city has contended that the airport must be closed in 2015 under various federal grant agreements and a 1984 court settlement with the government.
In anticipation of the airport's closure, community groups and airport opponents have been planning to convert the grounds into a park and recreational facility.
The battle over the airport has been closely watched by local aviation enthusiasts and national organizations such as the Aircraft Owners and Pilots Assn.