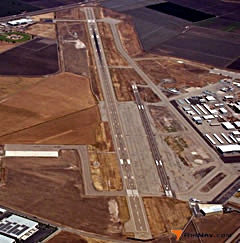 STOCKTON – San Joaquin County officials selected a new airport director Tuesday in a choice reflecting an oft-spoken view from county officials that Stockton Metropolitan Airport is not just a place for planes to land and take off – it is an engine of economic development.
The Board of Supervisors unanimously selected Harry Mavrogenes to fill the post. Mavrogenes has been chief deputy county administrator since November 2012, where he has led an effort to create an economic strategy for the county, including setting up an office in Silicon Valley to attract tech companies to the county.
Officials are hoping Mavrogenes can bring some economic activity to plans to grow the airport and develop a surrounding business park, though the development has progressed little through years of economic recession.
Still, officials hold out hope for the airport and its surroundings south of Stockton.
"It's always been an undeveloped jewel in this community," Supervisor Ken Vogel said.
Supervisor Carlos Villapudua said he wanted to see the planned business park, named Airpark 599, build out. "And I know this is going to happen under your watch," Villapudua said.
In a statement announcing the hire, County Administrator Monica Nino notes that Mavrogenes brings broad experience working with capital projects that will be needed at Stockton Metro. Mavrogenes came to the county from the San Jose Redevelopment Agency, where he supervised more than a half-billion dollars' worth of major public-private partnerships.
"I will do the best I can in moving the airport forward, and I'm excited," he said on Tuesday.