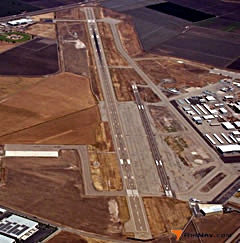 STOCKTON – With a $1.4 million federal grant in hand, Stockton Metropolitan Airport should start construction this month on a new aircraft parking apron next to the passenger terminal, allowing it to handle multiple airline flights at once, officials said.
Asphalt paving near the airport's passenger gates may soften in summer's heat and cannot bear the weight of large commercial jets. Existing small concrete pads allow the apron to accommodate only one airliner at a time.
The San Joaquin County-operated airport plans to replace the existing apron entirely with stronger concrete, but it designed the project to be built in three separate phases depending on available funds, officials said.
Fortunately, the latest Federal Aviation Administration grant – won with the support of Reps. Jerry McNerney, D-Stockton, and Jeff Denham, R-Turlock – completes funding needed for the full build-out, said Harry Mavrogenes, airport director.
"The award allows us to finish the entire $3.6 million project, which will allow up to five aircraft to nose in at the same time, expanding our efficiency and our ability to attract more airlines into Stockton," he said.
Mavrogenes said he expects to give the project contractor the go-ahead sometime next week and to have construction under way before month's end.
"We're hoping to beat the rains," he said, predicting, "They'll be done before Christmas."
Bob Elliott, chairman of the county Board of Supervisors, said the project is one key to opening Stockton to more airlines and more destinations. Allegiant is the one airline currently operating at the airport and the leisure-travel specialist offers service to Las Vegas and Phoenix, as well as seasonal flights to Hawaii.
"It's just a great opportunity for our airport to really attract participation from other airlines," he said Wednesday.
County officials also are considering the need for a customs inspection station at the airport as part of expanding travel options.
"We are certainly looking at that as well, depending on what kind of commitments we can get from other airlines who might offer international connections," Elliott said.
Most of the funding for the project comes from the FAA, and the county pays a nearly 10 percent match.
While the airport receives an annual $1 million FAA "entitlement" grant, that money, combined with unspent federal funds from previous years, was not enough to pay for the entire terminal apron. So county officials sought an additional "discretionary" grant (competitive funding given at the FAA's discretion).
McNerney said he was pleased to help secure the additional $1.4 million.
"The airport will be able to address some safety concerns and be ready to grow its commercial passenger service, which is good news for Stockton and our whole region," he said in a statement.
McNerney and Denham co-signed a letter to FAA administrators in support of the Stockton airport grant.