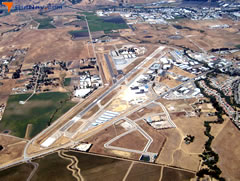 SkyWest Airlines, which operates daily flights out of San Luis Obispo County Regional Airport (SLO), is removing all of its turboprop aircraft from service and replacing them with regional jets.
Skywest Inc. aims to "improve SkyWest's overall efficiency and long-term profitability," according to a statement released by the Utah-based company. As well, the company noted that retirement of the 30-seat Embraer EMB 120 Brasilia fleet is due in part to "increased costs and challenges associated with new (FAA) FAR117 flight and duty rules." The rules, implemented in January 2014, were established to give commercial pilots more rest between flights in an effort to combat fatigue.
"The way the aircraft and the crews are scheduled, the costs have increased," said Marissa Snow, spokeswoman for SkyWest. "And there are maintenance costs as these aircraft age. There is definitely an evolution toward larger aircraft."
The transition to 50-seat Bombardier CRJ200 jets is expected to be complete by May 2015.
It's not yet known how Skywest's decision will impact service at the San Luis Obispo airport. However, SkyWest plans to work closely with airport administration "on fleet availability and what that may mean for San Luis Obispo specifically in terms of jet service potential," Snow said.
SkyWest, which currently operates 44 turboprop aircraft, has six flights daily to Los Angeles and five to San Francisco out of the San Luis Obispo airport. SkyWest Airlines operates as United Express, Delta Connection, American Eagle and US Airways Express under contractual agreements with their respective airlines. It also operates flights for Alaska Airlines.
SkyWest serves markets in the United States, Canada, Mexico and the Caribbean and has a fleet of about 751 regional aircraft.
"We've been in SLO since 1986, and we have a strong partnership with the community," Snow said. "We're just evaluating fleet availability right now."
Kevin Bumen, general manager of the San Luis Obispo airport, said more information should be available from SkyWest in the next few weeks. But he sees the larger planes as a passenger enhancement.
"It's a big event for the airport," he said. "It's the first time we'll have all-jet air service here. . It's a significant step for the airport and the airlines."