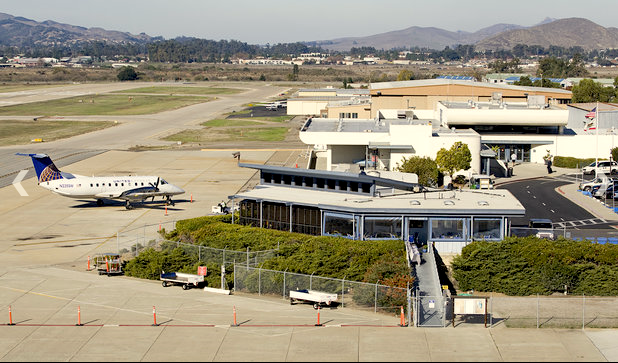 Airline industry's focus on major routes challenges SLO airport's growth plan– Faced with loss of some air service in recent years, an airline industry in flux and about 60 percent of travelers flying out of Los Angeles or the Bay Area, attracting new airlines and adding routes to San Luis Obispo County Regional Airport is an ongoing challenge with no easy fix.
"There's no one factor," said Kevin Bumen, general manager of the airport. "And this isn't something that's unique to San Luis Obispo."
It's happening at other small airports in Santa Maria, Santa Barbara and Monterey, for example, as well as "airports that are larger than we are," he added.
Airline deregulation in 1978 led to a more consolidated industry. The recent U.S. recession further changed the way airlines operate and compete. Now, Bumen said, unless there's a strong business case for flying a route, it will not be flown.
Yet if SLO County wants to grow its economy, business officials say, its airport must grow too. With tourism one of the county's top economic drivers, a robust wine industry, burgeoning technology scene and a renowned university, there is strong demand for a thriving air service.
Consider Cannon Corp., an engineering company based in San Luis Obispo. At least one or two times a week, individual employees and teams fly to offices in Los Angeles, Ventura, Bakersfield and the Inland Empire, said president Mike Cannon.
"It's part of our DNA, making sure that we're all well connected with all of our offices and that we interact face to face," he said. "We're also paid by the hour and earn by the hour. So sitting in a car doing nothing for four or five hours makes so little sense."
A year ago, in anticipation that the airport's quest to woo United flights to Denver would be successful, the company opened an office there. Cannon ultimately closed the Denver office in part because it was difficult to travel back and forth.
"It was too far for a private aircraft, so we were counting on having commercial air service available," Cannon said.
Plight of regional airports
Small and medium-size airports across the country, including those along the Central Coast, have experienced flight reductions or elimination in service as airlines have shifted away from offering as many flights as possible to operating more efficiently in an effort to cut costs and increase profits.
New flight regulations requiring pilots to have more training hours, pilot shortages, and limited availability of planes and flight crews have added to an already uncertain time for smaller airports.
It's the same story for regional airports in Santa Maria, Santa Barbara and Monterey. There may be demand for more flights, but airport officials report that there aren't enough seats on airplanes.
That's not likely to improve anytime soon, according to researchers with Massachusetts Institute of Technology's International Center for Air Transportation.
"Most likely, small communities will not be able to recover the same level of service in the near term than they received during the capacity-expansion era," according to the May 2013 MIT report, "Trends and Market Forces Shaping Small Community Air Service in the United States." "These airports will likely see fewer flights operated by smaller aircraft belonging to a new breed of ultra-regional carriers."
Moreover, the report said that airports close to major hubs and those with "a systemic lack of local demand may be at risk of losing all of their network carrier service in the next five years."
In late 2008, as the economy was hit by recession, Delta ceased service to Salt Lake City from San Luis Obispo County Regional Airport. The same year, American, which had service to Los Angeles, pulled out of the airport altogether, and closed its aircraft maintenance facility. U.S. Airways, which had a route to Las Vegas, also discontinued its flight. The result was that the airport lost about 38 percent of its seat capacity.
Two regional air carriers currently serve San Luis Obispo County Regional Airport: United Express and U.S. Airways. There are 14 daily departures, with flights to Los Angeles, San Francisco and Phoenix.
The airport's mission is to retain and strengthen what it already has, as well as expand daily flights, Bumen said.
Ultimately, the goal is to obtain additional service to points east — Denver, Salt Lake City and Dallas — and to northwest cities like Seattle. So far, that has proved difficult.
The airport has been in ongoing discussions with several airlines, including SkyWest, to offer Denver service. SkyWest recently announced that it is replacing its 30-seat turboprop planes with 50-passenger regional jets in 2015. It's still unknown how the transition to regional jets will affect service at the airport, although officials have been told it will not lose seats.
As well, Alaska Airlines has a proposal from the airport to bring Seattle service.
"The ones that we see the most potential for is through United or Alaska," said Craig Piper, assistant airport manager. "We've even spoken to Frontier, but they have pulled out of Santa Barbara." Frontier is repositioning and refocusing its markets on the Midwest and upper East Coast.
Airport officials have talked to Surf Air, a private membership airline that offers a flat monthly rate to fly on its network. Surf Air, which flies up to 28 daily departures between Burbank, Hawthorne, San Carlos, Santa Barbara, Truckee-Tahoe, Carlsbad, Las Vegas and Oakland, caters to business travelers.
"We're one of a handful of cities being looked at closely for next year," Bumen said. "It's too soon to tell, but we have a good feeling about it."
How to lure airlines
Airlines take a lot more convincing than they used to, said Piper, and want more of a long-term commitment from the airport and the community that they'll be profitable.
To attract airlines, the airport has used a variety of tools, including a $500,000 Department of Transportation small community air service grant that requires the airport to offer matching funds. The money could be used as a revenue guarantee for an airline, or a promise that if an airline serves the airport for a given amount of time, it will remain profitable.
The airport also has a suite of options such as fee waivers and substantial rent reductions for airlines, depending on the service added, Piper said.
About a year ago, the airport reached out to the community, primarily business owners. Many of them gave informal pledges totaling more than $1.2 million to attract service to Denver. Other pledges from businesses could be made in an effort to woo service to Seattle or other destinations.
"Between incentives on rents and fees, and the grant, other marketing pieces and those pledges from the community, we've raised a little over $2 million," said Piper.
While the airport has its share of challenges, it is showing signs that it's on the way up. Passenger enplanements — passengers boarding an aircraft — are up 12.1 percent from January through October of this year. Total passenger traffic increased nearly 5 percent in 2013 over the previous year.
"It's not necessarily in the way of destinations, but the seats are selling," he said. "People are flying, and they're flying a lot."
Another positive development is the airport's approval to seek a $20 million grant from the Federal Aviation Administration to help pay for a new terminal. The existing terminal is cramped, aging and does not meet federal safety standards because it is too close to the runways.
The terminal project could be put up for bid in early 2015, and based on the amount of the bid, would be awarded the grant. Airport officials hope that a new terminal could be under construction by this time next year.
To buffer potential airline industry impacts, the airport is also actively seeking non-aviation sources of revenue. It is building a cell tower that would generate about $2,000 a month and is investigating other opportunities, including additional marketing within the terminal building and renting space on airport property for non-aviation activities.
Increasing the use of social media could also help spread the airport's message, and the airport has a presence on Facebook. With a limited staff, however, the airport is unable to continually post.
"We have new information for people and use that the best we can, but we do not have one person dedicated to it," Piper said. "We need to have somebody doing that and keeping up on it."
Airport is key to growth
As demand grows for all San Luis Obispo County has to offer, the airport will become an even more critical piece in providing access for business and leisure travelers, say tourism and business leaders.
"Additional flights to key places like Denver open up access to the East Coast and create new market opportunities for tourism and business," said Stacie Jacob, chief executive officer of Visit San Luis Obispo County.
"The region has world-class assets, from Hearst Castle to wine to the coast, and often travelers are perplexed on how to get here. A regional airport with multiple flights is a key service to strengthen our economy, which is heavily dependent on tourism."
Business leaders believe raising awareness of the airport as a hometown convenience and a huge asset to the community could boost support.
Cal Poly supports increased service at the airport as well.
"Additional flights benefit everyone in the county, including the university's faculty and staff, alumni, and current and future students," said Matt Lazier, university spokesman.
Mike Manchak, president and chief executive officer of the Economic Vitality Corp. of San Luis Obispo County, said the airport has been performing well, and with the help of its stakeholders, has been doing "virtually everything possible to retain and attract air service."
The county "risks losing jobs and companies, or at least the growth of companies, if our airport is not vital and competitive," he said.
"A big concern is, as they say, 'Use it or lose it,'" Manchak said. "The community should always consider our local airport when possible in order to help our airport thrive. We hope that the airlines will continue to invest in our community with more regional jets and new destinations."
Now that the local economy is improving, it's time for cities to tackle infrastructure, and that's where the county's airport comes in, said Jordan Levine, economist with Beacon Economics.
"It's a big feather in the cap in terms of bringing in tourists from out of state and abroad," he said. "Having an airport connected to more hubs and with more service would help facilitate bringing people in from other parts of the nation and the world," he said.
Business people considering San Luis Obispo County as a place to relocate also want to know that they will be able to go where they need to.
"If you want people to migrate to a region and set up businesses, they have to have access to visit their families in other states," Levine said.
The airport is listening and doing everything in its power to respond, said Bumen. "As we see smaller airports struggling in California, we're in the fortunate position to not only be stable but growing," he said.
The airport's future, though, will depend largely on the decisions of the airlines and getting more passengers on board. "There's no better way to tell airlines that we need service than to show them that there's so much demand at the airport that we can't meet it," Bumen said.