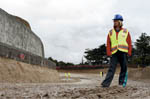 Monterey Airport runway project unearths Native American remains and artifacts. – A massive earth-colored, terraced wall is rising along the edge of Monterey Peninsula Airport. Looming over Highway 68 south of Del Rey Oaks, the retaining wall is part of a $52 million runway safety upgrade, now in the thick of construction.
Earlier this year, crews found Native American remains and artifacts on part of the construction site. Last month, they excavated 730 cubic yards of dirt and re-buried it in another part of the airport property.
The runway improvement project will bring the airport up to Federal Aviation Administration safety standards. It features crushable concrete edging the runway to catch planes that zoom off-course – a little like bumper bowling – and the 80-foot retaining wall.
The project also includes an access road in the airport's northwest corner, behind Tarpy's restaurant. That's where, last spring, the construction crew unearthed artifacts and stopped work.
Airport officials notified the California Native American Heritage Commission, State Historic Preservation Office and the Ohlone Costanoan Esselen Nation (OCEN), according to Airport Planning Manager Chris Morello. They drew up a plan for recovering and documenting the artifacts, including ancient pottery and grinding stone pieces. In analyzing the soil, they also found small pieces of bone they identified as human remains from two infants and one adult. That prompted another round of notifications.
OCEN Chairwoman Louise Ramirez says the access road is on a known sacred site that was "destroyed" by the construction. At her request, she says, airport officials agreed to move the soil to a protected section of the property in perpetuity.
"I know that I cost them a lot of money," Ramirez says – about $350,000, according to Morello.
In late October and early November, Morello says, a team including a Native American monitor and four archaeologists oversaw the relocation of the soil, 6 inches deep at a time. The soil's new location is confidential.
"We're precluded from telling anyone where on the airport the artifacts are," says Mark Bautista, the airport's deputy general manager.
When the archaeological report is complete, Morello says, airport authorities will follow federal guidelines to curate the artifacts with an accredited organization. They may later borrow some of the key pieces, she says, and display them inside the airport.
Ramirez says she'd prefer the artifacts be returned to OCEN. "One day we hope to have a museum for the community to come learn about us," she says.
Attorney Alexander Henson, who represented the Highway 68 Coalition in a now-settled lawsuit challenging the runway safety project, is surprised to hear about the archaeological finds. None were mentioned in the project's environmental impact review (EIR).
"It's disturbing, because it tells me that of the many deficiencies in that EIR, here's another one," he says. "Did they hide the ball on this one too?"
Bautista says the archaeological site has been known for a long time, and experts assessed it prior to construction. But Morello says consultants had not been concerned about artifacts in the construction zone – and once they were found, the follow-through was "diligent and conscientious."
Photo Caption – Airport Project Manager Chris Morello visits the construction site where crews removed soil for re-burial in a protected location. "We found some very significant artifacts, but no more human remains," she says.