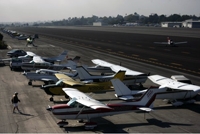 NBAA Warns Local Officials About Legal Obligations Regarding KSMO
Issue Was On The City Council Agenda Tuesday Night
The NBAA on Tuesday cautioned the mayor and city council of Santa Monica, CA about the questionable legality of proposals that seek to limit the viability of Santa Monica Airport (KSMO) for aviation operations, as well as for businesses located on the airfield.
At a city council meeting Tuesday night attended by more than 100 people, local officials considered the Santa Monica Airport Commission's recommendation that the city move ahead with proposals to implement costly new leases for tenants, close a portion of the airport's runway and enact a new emissions ordinance at KSMO. Public comments extended well into the night, according to television station KTLA. Dozens more protested outside, complaining about noise, pollution, and perceived safety issues. Some said that the airport should be completely closed. Airport advocates also gathered outside city hall to defend the facility, saying it meets all federal and state requirements for noise abatement, safety and environmental issues, and accounts for hundreds of millions of dollars in the local economy.
NBAA Western Regional Representative Stacy Howard attended the meeting, and told city officials that Santa Monica has "obligations, derived from specific agreements with the federal government as well as general applicable federal law…which mean that some of the commission's proposals simply cannot be implemented by the city."
In her comments to the city council, Howard noted that even the city attorney, in a report to the council, noted that some of the commission's proposals cannot legally be implemented, and advised city officials not to take any premature actions.
Ahead of the city council meeting, NBAA Chief Operating Officer Steve Brown sent a letter to Mayor Kevin McKeown, outlining the Association's objections to the commission's proposals, "which generally are inconsistent with federal law."
Brown also warned McKeown that, if adopted, the proposals "could lead to legal action against the city – as well as federal sanctions, including the suspension of all DOT transportation funding for city projects."
Howard's comments at the city council meeting, as well as Brown's letter, mark the most recent efforts by NBAA in the decades-long battle against attempts to limit operations at KSMO or shut them down altogether. Last year, with urging from NBAA, a California federal judge dismissed a lawsuit in which Santa Monica city officials attempted to gain control of KSMO with the intent of closing it down.
"NBAA will continue to monitor the situation and pursue all available options to ensure access to and the future viability of Santa Monica airport, which is not only an important asset in our national system of airports, but is also a vital economic asset to the Los Angeles basin area," said NBAA President and CEO Ed Bolen.
FMI: www.nbaa.org, City of Santa Monica Staff Report