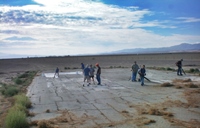 Volunteers from Tehachapi, Bakersfield, Santa Maria and Shafter in California worked hard this past Saturday to assist the airport owner re-open the runway in New Cuyama, California.
The group of 20 pilots and aviation enthusiasts were brought together by a common theme: Roll up your sleeves and help save an airport.
The airport remains on the Los Angeles Sectional but is listed as "indefinitely closed" in the California AFD. It is listed as a privately owned, public use airport.
L88 was established in 1950 by the Atlantic Richfield Oil Company after oil was found in the Cuyama valley. The airport was primarily used by oil exploration and extraction personnel and created a means to quickly bring in materials and repair equipment to support their operation.
The property the airport sits on has been privately owned for most of this time with the burden of maintaining it falling on the owner.
The coordinator of the volunteer effort, Ken Hetge of Tehachapi, understands the importance of the airport.
"New Cuyama is very important to anyone flying from the Central valley of California to the coast," he said. "This facility is the only option once you get out of the Bakersfield area and provides a safe haven should issues arise while crossing the mountains. This airport is worth saving."
Over the years, the ownership of the property has changed and time had taken its toll on the condition of the runway.
"Most people do not realize the effort it takes to maintain a private runway," Hetge said.
Something as simple as painting the runway numbers on either end took a full 30 gallons of white paint. The group brought shovels, rakes, crack filler and asphalt patching material to use during their Saturday project.
The current property owner, the non-profit Blue Sky Sustainable Living Center, was very receptive to the offer of helping with returning the runway to usable condition, Hetge noted.
Gene Zannon, a founder of Blue Sky said, "we always planned on getting things up and running but help like this makes it happen much quicker. It is impressive to see what a dedicated group of volunteers can do when the flood gates are opened."
Zannon hinted that he has great plans for the airport.
By the end of the work day, the runway was cleared of tumble weeds and grass, the significant holes in the surface were patched and the runway numbers were repainted and clearly marked.
At the present time, the runway remains closed, with Xs painted at both ends. It is hoped that within the next week or two, if things go as planned, the "indefinitely closed" designation will become an issue of the past.
Hetge mentioned that additional work days are planned for the near future and hopefully those attending will be able to fly to the airport rather than drive.
For more information, contact Ken at 661-822-2827 or KennethHetge@gmail.com.
For more information: BlueSkySustainable.com