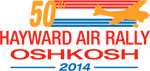 The Hayward Air Rally is celebrating its 50th Year Anniversary in 2014 by staging a Rally July 23 through July 29 2014 from Hayward California to AirVenture in Oshkosh Wisconsin. The Rally accepts aircraft with traditional instruments and aircraft with glass panels. Pilots of all skill levels are welcome. Visit our website for more information at http://www.hwdairrally.org or email: info@hwdairrally.org
The Hayward Air Rally is a 501(c)3 non-profit organization whose purpose is to promote aviation safety and education.
The Hayward Air Rally has awarded 7 scholarships to the EAA Air Academy in 2014.
Regards,
Mike Citro