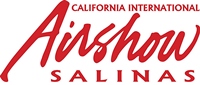 Salinas, CA – Tickets remain a great value for the California International Airshow. This year's show will be held September 27th & 28th and will feature the USAF Thunderbirds, Sean D. Tucker, Vicky Benzing, Clay Lacy, Metal Mulisha and more! Tickets for the California International Airshow will go on sale June […]
After a year of sequestration, the U.S. Air Force Thunderbirds will take to the skies and head for a weekend of precision flying at the California International Airshow in Salinas, California, on September 27-28, 2014. We welcome our Ambassadors in Blue. The USAF Thunderbirds are celebrating over 60 years of performing for people all around the world with pride, precision and professionalism.
Other featured performers in one of the greatest airshows in America are: our very own (and well known) Sean D. Tucker in his beautiful Oracle, Vicky Benzing Aerosports, one of the top female aerobatic pilots flying a 1940 Boeing Stearman, Clay Lacy Lear Jet Aerobatics, World War II Mitchell B-25, a C-47 Normandy 70th Anniversary, Liberty Jump Team, Metal Mulisha, a Russian MiG-17, and much more.
Military and civilian aircraft will be on display including a Douglas DC-4, B-25J Mitchell 'Executive Suite', PV-2 Harpoon, C-47 Gooney Bird, F-4U Corsair, B-5N (used in the movie Pearl Harbor), and yes….that sweet hum you hear in the air….the P-51 Mustang.
For over 30 years, the California International Airshow has been committed to the Central Coast. Each and every year, the Airshow, its sponsors and YOU, the ticket buyers donate money to local charities right here on the Central Coast. The Airshow has raised almost 8 million dollars so far, and you can help give back to the community by buying a ticket. And, as always, ticket prices remain a great value for the California International Airshow. You can go to www.salinasairshow.com for information on ticket purchasing, sponsors, vendors and more. Or, you can call (844) 647-SHOW or (844) 647-7469 for more information.
I'll see you there!
Rosemarie Schoening, Rep.
Salinas Municipal Airport