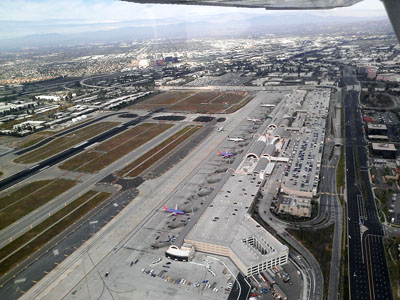 County approves increases in planes, passengers in six years.
· Airport curfew
• No takeoffs: 10 p.m. to 7 a.m. (8 a.m. Sundays)
• No landings: 11 p.m. to 7 a.m. (8 a.m. Sundays)
· Changes:
• Allows an additional 1 million annual passengers in 2021; could allow 12.5 million annual passengers by 2035.
• On average, adds 10 daily departures of the noisiest planes in 2021.
Orange County supervisors Tuesday approved increasing the number of passengers allowed at John Wayne Airport by 9.2 percent within six years and permitting 10 more flights a day.
The changes will start in 2021, when the county will permit the additional 10 daily departures, on average. The planes involved are the noisiest allowed at the transit hub.
Under the plan, the maximum number of passengers allowed at the airport by 2035 could grow to 12.5 million annually if airlines meet goals for filling planes.
The move softens original regulations imposed on the airport resulting from a 1985 lawsuit against airport expansion plans.
Supervisor John Moorlach said Tuesday the agreement includes "no expansion at the airport." But he said that if the deal didn't give a little, it's possible Orange County's strict restrictions – which allows the airport to remain outside current federal noise regulations – could be thrown out entirely.
"We didn't want to be so rigid and have it thrown out and maybe lose everything, so we wanted to be very smart about what we're doing," said Moorlach, whose district includes Newport Beach. "It is part of our economic base, and it's something we want to work with in a balanced, fair and appropriate way."
The 1985 settlement produced an agreement that predated federal noise regulations enacted in 1990 and allowed Orange County to continue to impose its own noise restrictions. Those federal laws largely kept communities from imposing overnight curfews, Supervisor Todd Spitzer said.
This is the second time the 1985 restrictions have been loosened. The last time was in 2003.
Moorlach's assertion that the airport wouldn't get bigger didn't satisfy Jim Mosher, a Newport Beach resident since 1980 who was the only person to voice opposition Tuesday.
"This is a plan for further expansion," Mosher said. "Look no further than Los Angeles, where the growth of LAX devastated once vibrant and affluent residential communities. I don't think we want that in Orange County."
Major stakeholder groups, including Stop Polluting Our Newport, an original plaintiff in the case against airport expansion in 1985, said the move is a necessary compromise as businesses and airlines continue to call for more access to the airport.
"It's the best we could get," said Marko Popovich, president of the resident-backed organization. He said while he would like to keep the restrictions unchanged, he saw "all the airlines that are multimillion-dollar corporations … on the other side."
With the approval, the airport's "one-of-a-kind" curfew, as staff characterized it in a report, will continue through 2035. That prohibits planes from taking off between 10 p.m. and 7 a.m. and landing from 11 p.m. to 7 a.m. Monday through Saturday. On Sundays, the curfew is an hour later for takeoffs and landings, 8 a.m.
Now, a maximum of 10.8 million passengers can move through the airport each year and 85 "Class A" planes are allowed to depart daily, on average. Planes in this class often travel longer distances and carry more fuel, which tends to increase noise during takeoff, said Jenny Wedge, a spokeswoman for John Wayne Airport.
Last year, the airport saw about 9.2 million passengers, Wedge said. The same number is expected this year.
Without Tuesday's approval, the settlement agreements would have expired in 2015. Extending the noise regulations without an extension of the settlement agreement would leave the county vulnerable to lawsuits from the Federal Aviation Administration and business groups interested in freeing up airplane traffic, county staff wrote in a report.