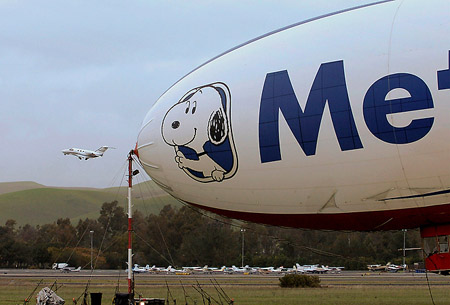 LIVERMORE — After two weeks moored in the muck at Livermore Municipal Airport, MetLife chief blimp pilot Bret Viets eyed the afternoon's dark clouds, waiting for a break in the weather. The previous day, Viets' lighter-than-air vessel, "Snoopy Two," provided aerial coverage of an Oakland Raiders game. His work finished, he bided his time before heading south to San Diego.
An airship pilot for five years, Viets is a rare breed. He estimates there are only about two dozen such pilots in the U.S.
"It's fun," Viets said. "I enjoy meeting new people. That's as much a part of our job as flying."
Viets is used to drawing attention wherever he goes and compares operating a blimp to a traveling circus. He and his crew of 14 spend about 330 days a year on the road; the Snoopy Two winters in California, traveling along the coast, then it's off to follow the PGA Tour. No stranger to frequent flying, Viets said he considers the Livermore airport a "no-hassle" stopping ground.
"You can't beat the area," Viets said. "It's close to the city if the guys want to do anything, but it's a smaller-type atmosphere. You're not fighting traffic to and from the airport."
Airships have a long history in Livermore; in fact, you have to go back to 1904 to find their first mention, according to Livermore Heritage Guild president Jeff Kaskey. That year, Charles Tolliver arrived in town with visions of building his own hydrogen-filled zeppelin. He collected money from wealthy donors — philanthropist Phoebe Hearst, the mother of William Randolph Hearst, invested more than $70,000 in the project — but ran into safety issues and never got the project off the ground. A small wire-frame
statue at the airport's Dan Lee Air Terminal commemorates the effort.
Later, in the 1940s, Kaskey explained, the U.S. Navy started mooring its dirigibles in Livermore when airports in San Francisco and Oakland were fogged in.
"This is where they would ride out a marine layer," Kaskey said. "They would occasionally exchange passengers, but there were no permanent stays."
With room for up to three blimps and a large flat field for approaches on its 24 acres, the airport today remains an attractive stopover for crews, said airport manager Leander Hauri. Benefits include a relatively cheap $30 overnight mooring rate, its proximity to Bay Area stadiums and lighter security measures when compared with larger airports.
"As long as they have business in the area, they can stay," Hauri said. "We don't mind."
The airport is more apt to see blimps when the Bay Area football teams are doing well, Hauri said, and their presence is an eye-catching public relations opportunity.
"A blimp is a fun thing to have," Hauri said. "It's not a major money maker, but it is an attraction."
Mooring the blimp is done solely by the pilot and crew. About nine crew members of the Snoopy Two hustle to set up the 25-foot aluminum mast and form a "V" on either side of the gondola. Taking hold of the nose lines, they direct the 128-foot-long airship into the wind and lock the nose pin into the mast. Once in place, the blimp is free to move around the mast, like a massive wind sock. Crew members take turns standing watch around the clock to ensure the blimp doesn't go vertical. If the ship needs helium, they truck in the same canisters used to fill party balloons.
The biggest challenge, Viets said, is the weather. Because of the blimp's slow speed — 35 to 45 mph tops — he has to make travel plans far in advance. When preparing to depart, Viets gets up early to check weather conditions. If it's not too windy, the crew can undock within 45 minutes. With little room in the tiny gondola, Viets usually travels alone, unless a videographer rides along in the back seat. The rest of the crew follows in trailers, staying in touch via two-way radios. At events, a ground crew remains on standby outside the stadium in case of problems.
According to Viets, navigating a blimp follows the same principles as flying a plane. Snoopy Two has two engines, is propeller-driven and can reach 10,000 feet. However, there's no co-pilot and no bathroom on board, which presents a challenge for extended flights. Viets also tires from using his feet to control the blimp's "barn-door size" rudders — but he wouldn't have it any other way.
"I've never made a flight and not wanted to jump right back in the next day," he said.
For more information go to the article web site.