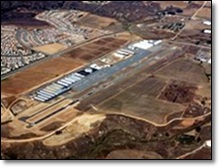 The defeat of the proposed power plants at French Valley Airport – How we did it!
by Robert Eppers and Troy Childs
Before we became involved in this action, we didn't understand how much of a threat power plants could present to flight operations at general aviation airports. This is the story of our fight to prevent eight (8) 60 megawatt power plants (a total of 480 MW) from being built inside the pattern of the French Valley Airport in Murrieta California.
It all started March 17, 2009 when I received a bid notification for this unheard of project. Being an electrical contractor experienced with this type of work I was asked to quote on it. I am also a pilot, and a property owner, whose property lies under the downwind leg for French Valley Airport.