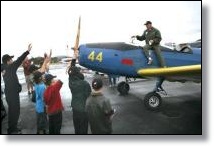 Local children take flight
Best friends Ciana Elizalde and Tania Chavez, who had never been on an airplane before, shivered with excitement Saturday morning as they waited for their turn to sail over the Santa Ynez Valley.
The 12-year-old Lompoc residents were among about 60 children in Santa Barbara County foster care who got the chance to fly at the Santa Ynez Airport on Saturday, Oct. 23. The event was put on jointly by the American Charities Foundation and the Experimental Aircraft Association Young Eagles, a program that gives youth the chance to ride in an airplane.